Today the Sky F1 Insider Twitter account thought they would give readers inside access to their scripts for the weekends, by taking a picture of the front page of all six shows.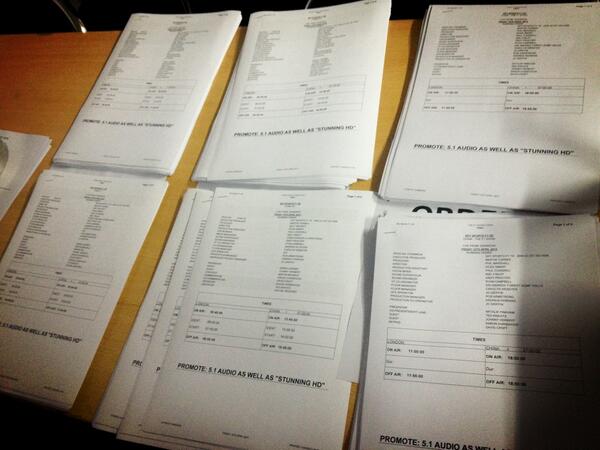 The front page of each script contains a list of all the on-air and off-air talent for each show, from Martin Turner downwards. It looks like for each show, fifteen people are credited on there, alongside the on-air people, varying from five for The F1 Show to more for other shows.
Finally, we then get a big strap, which says:
PROMOTE: 5.1 AUDIO AS WELL AS "STUNNING HD"
Now, at this point I will say that I have no idea if things such as this are common in broadcasting or if it just specific to Sky, but I would ask:
a) what is the benefit of promoting it during the show?
b) what is the benefit of promoting it during every show when most viewers are the same and therefore already know about this
c) why is this big and bold on the front and made out to be the most important thing. I would be more interested in delivering high quality VT's than the audio and picture that I am receiving.
d) is this a Sky F1 directive, or is this a directive from high up? If it is the latter, I would love to know why
I don't know the answer to the above, but I don't understand the logic in promoting this – all the viewers watching will already know about it, so in my opinion it has very little purpose – apart from them boasting about their own product.